Chuck-A-Puck
Being a part of the El Paso Rhino Chuck-A-Puck Fundraising Program is a fun way for your group, organization or team to earn 30% of proceeds from Chuck-a-Puck sales. The Chuck-A-Puck promotion is a way to win great prizes during the second intermission! Fans who have purchased a Chuck-A-Puck will throw their puck onto the ice, aiming for the center dot or other targets.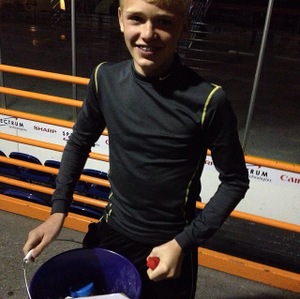 Please keep the following in mind when considering the Rhinos as a fundraising opportunity:

• You can be a non-profit group, school organization, or local youth sports team.
• We require a minimum of six volunteers (maximum of 10), and at least half must be age 18 or older.
• Group must report to Hospitals of Providence Events Center Box Office at 6:00 p.m. on Thursday, Friday or Saturday games or 3:00 pm on Sunday games
• Volunteers will be able to go on the ice during the 2nd intermission to help pick up Chuck-a-Pucks (signed waiver from all participants is required).

To be considered, please send in an application to the Rhino office at 4100 E Paisano, El Paso, TX 79905 before October 1, 2017. Chuck-a-Puck dates are filled in the order they are received. Please refer to the Chuck-A-Puck Information page for further details involving the Chuck-A-Puck sales process. If your organization is selected, you will be contacted and have everything explained in detail.

Click here for the Chuck a Puck FAQ PDF.