News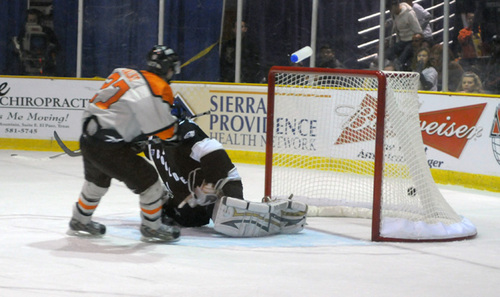 10/24/2009 9:20 AM
-

(EL PASO, TX) -- The difficulty level went up, but the El Paso Rhinos won their home opener at the Sierra Providence Events Center, defeating the Boulder Bison, 5-3, Friday night.
The Bison (7-3-0, 14 pts.) are the only team to beat El Paso (12-1-0, 24
points) thus far this season, winning the very first game between the teams last Sept. 28, 5-2. Boulder is also the only team thus far to have scored more than two goals against the Rhinos stout defense -- something it has done in three of the four games played between the teams going into Saturday night's contest.
El Paso's Mike Bottcher keyed the first goal of the game. Even with the Bison on a 5-on-3, Bottcher was poised for the breakaway, forcing Boulder defenseman Hurley Kane to hook him or risk watching him walk in on goaltender Taylor Fant.
Kane's penalty at 2:33 of the first bettered the odds for the Rhinos; and when Bison's player Jordan Roberts was whistled for elbowing just 23 seconds later, El Paso was in business. Navarone Copley chased his own rebound and tapped home the opening goal 5:50 of the first period.
The hosts followed that with a three-goal second period, as Austin Balko, Timothy Avegard and Nick Gualano all scored.
Boulder got a couple back, but not before Gualano got his second goal on a hard work power play strike 3:08 into the period.
Friday's game will be televised Saturday afternoon at 3 p.m. MDT on Time Warner Cable MetroSports Southwest, Ch. 24, followed by Saturday's game on Sunday at 3.
Fans can also go to www.elpasorhinos.com to watch the game via B2Network solutions for a small fee.