News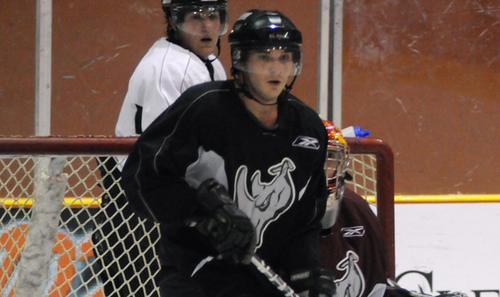 09/28/2009 2:23 PM
-
The 21st installment of the El Paso Rhinos 25 players in 25 days is veteran defenseman Casey Lutz.

Name:
Drew Montague
Number:
8
Hometown:
Portage, MI
Birthdate:
7/16/1989
Position:
Defenseman
Last Team:
El Paso Rhinos
Height:
6' 0"
Weight:
190
Siblings:
1
Siblings name and age:
Justin - 18
Mother and Father:
Rick and Jan
Favorite NHL Team:
Detroit Red Wings
Favorite Player
: Henruik Zetterberg
Favorite Food:
Chicken Fingers
Hobbies:
Coaching hockey, working on cars, hanging out with friends
Accomplishments:
WSHL All Tournament Team
Goals:
Go to college, have a good season
Describe your experience as a Rhino:
Playing here reminded me why I love the game so much. We get treated like celebrities. Best decision I have ever made was to come to El Paso.
Biggest Inspiration:
Family
"Drew needs to be a staple on our power play, he needs to be consistant and has to have a good work ethic . Drew has a great shot and offensive skills."

Coach Herman